How to Back Up a Virtual Machine using BackupChain®
BackupChain is specialized for virtual server protection
BackupChain is a easy to use, yet powerful backup tool for IT professionals. It can be set up in various environments and offers file version histories, delta compression, virtual server backup, VHD backup, and database support, and an optimized multithreaded backup engine for fast backups.
Find out more about BackupChain:
Virtual machine backup walkthrough
Note: this walkthrough is also available as a video.
First, create a new task using the Backup Wizard. Select Hyper-V Backup if you are using Hyper-V: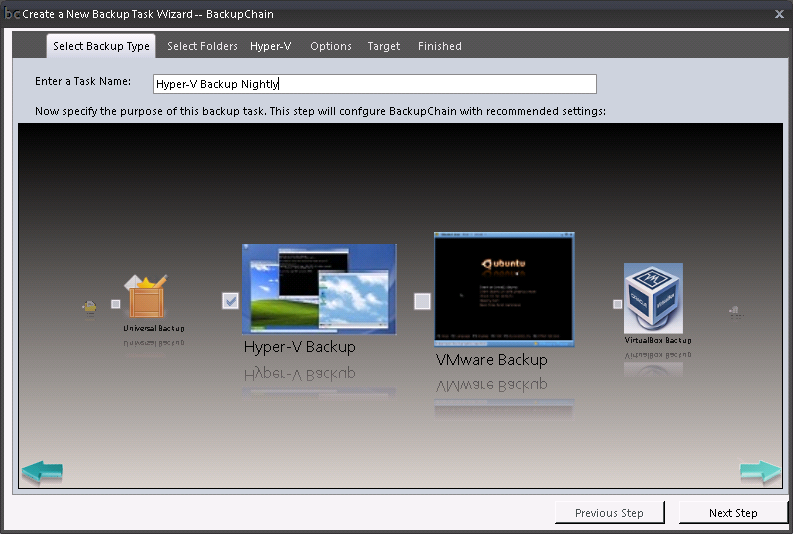 Then, select the virtual machine your want to include in your backup:
You now have the option to back up all virtual machines simultaneously or sequentially. Backing up one VM at a time is slower but is more economic in terms of CPU and hard drive resources. Unless you need all selected virtual machines backed up concurrently, we recommend opting for sequential backups. BackupChain supports Cluster Shared Volumes and virtual machines stored on a SAN (Storage Area Network).
After selecting the virtual machine to be backed up, proceed and specify a Backup Target:

In our example above, we chose a local target on drive D:. You may also specify a NAS, network server, or FTP server as a target if you like. Note that deduplication also works when selecting FTP; hence, you can achieve an efficient remote backup via FTP as well.
Then, simply save the task and you are ready to start!