Data Backup Using BackupChain
BackupChain is a configurable tool with advanced features for IT professionals; however, home users can easily set up a simple data backup as well and benefit from BackupChain's space-saving features by following the steps shown below:
Create a New Data Backup Task
If you have worked with BackupChain before, you click "New Task" to open the Backup Wizard.
Note: If you just installed BackupChain, skip this step. You will be taken automatically to the next screen.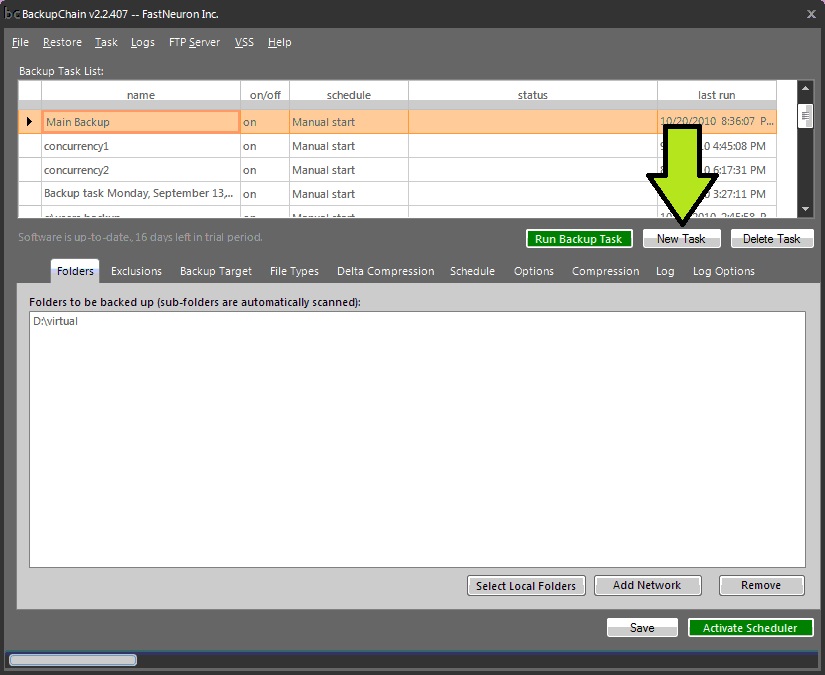 Select Data File Backup
If you just installed BackupChain, the screen below will open automatically. Select and Check Data File Backup (Arrow #1). You can check the other options as well if you are familiar with them; otherwise, simply click Next (Arrow #2).
Add Folders to Your Backup Task
BackupChain selects C:\Program Data and C:\Users (or C:\Documents and Settings) automatically. These folders contain all personal data folders in Windows, such as My Files, My Documents, My Videos, etc. If you have more folders to back up, click Add Local Folder.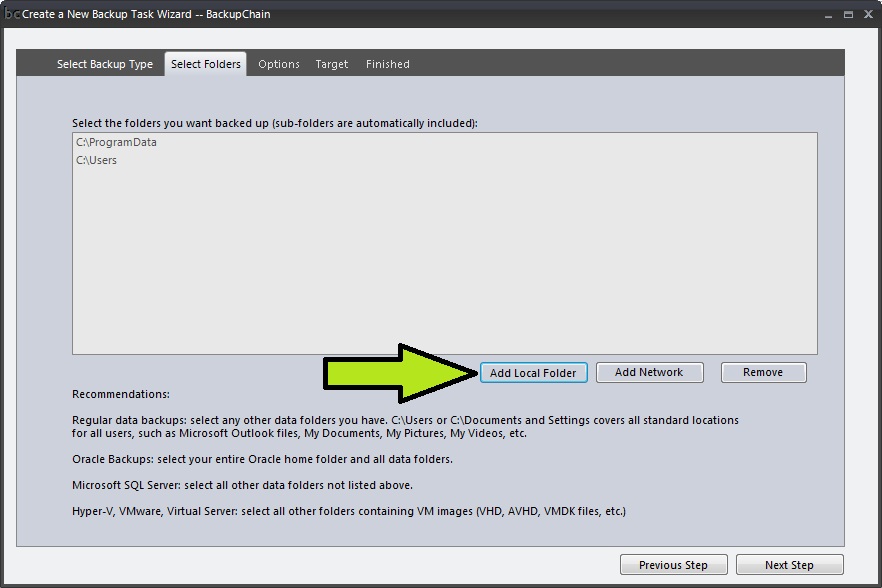 Adding a Local Folder to Your Backup
If you want to add more folders to your backup, check them now. In our example, we want the folder G:\projects backed up as well: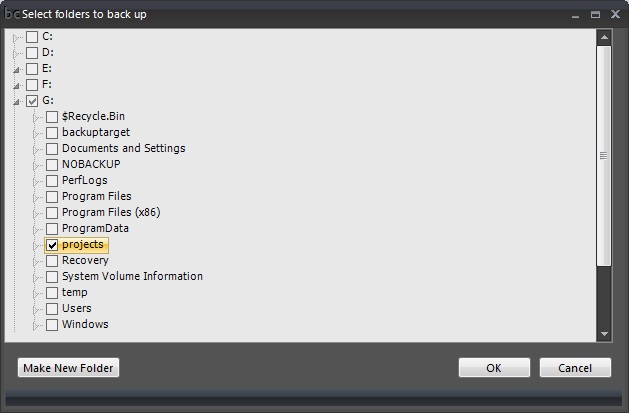 After clicking OK, click Next Step and you get to select backup options:
Selecting Backup Options for Your Data Backup
Home users may simply skip this screen and accept the default settings. You may want to increase the number of file versions to keep (you can enter a number or enter ALL in order to keep all changes to all files, but this is not recommended). Most users can simply click on Next Step.
Selecting a Backup Target
Most home users back up their data to an external USB drive, which is the most economic and fastest way to back up your files. Make sure the option Local Folder is selected (Arrow #1) and click Browse (Arrow #2) to select the target folder or drive for your backup:
In our example, the drive I: is the USB backup drive. If you are not sure which drive is the backup drive, click the Windows Start button and open Computer, this will list all drives you have with additional information.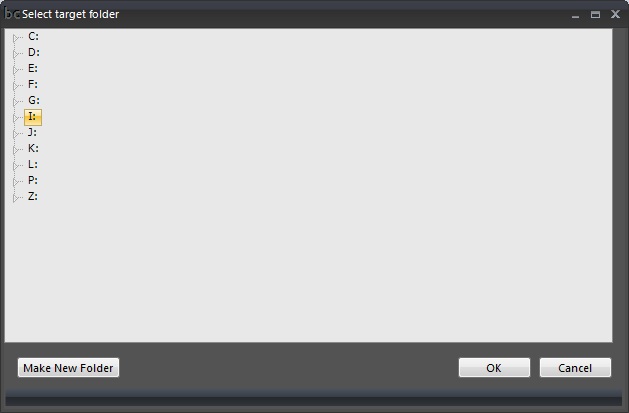 Now you're ready to proceed, click Next Step:
Running your Data Backup
You can now start your backup immediately by clicking on Run Backup Now. Your settings will be saved so you can repeat the backup at a later time if necessary: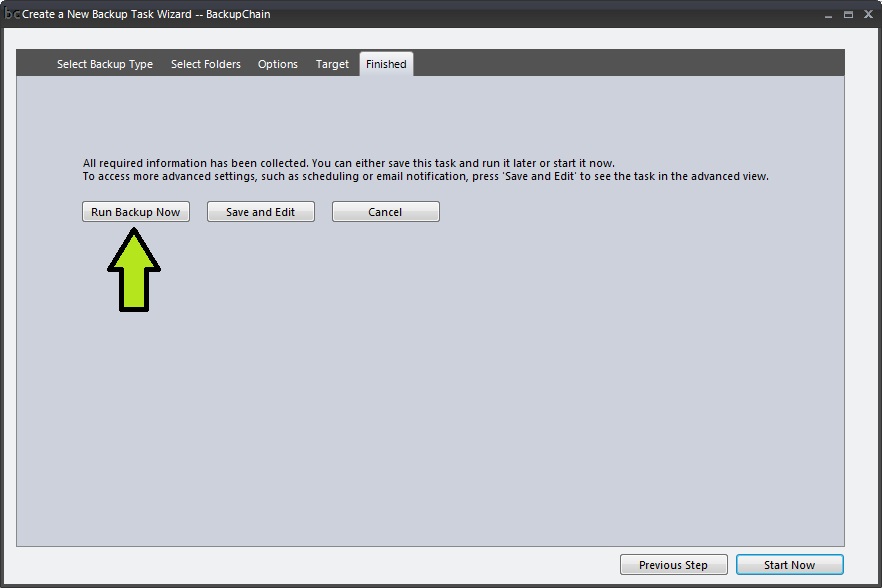 Data Backup Progress
The progress of your backup is shown in the Backup Task List (first half of screen) and at the bottom of the BackupChain screen. You can close the application if you like and re-open it later to check on your backup (it will run in the background).
Backups can be paused and stopped using the Pause and Stop button. Note: You need to click Stop in order to change the backup settings if necessary and then restart the backup task again by clicking on Run Backup Task.
How to Run the Data Backup Every Day Automatically
BackupChain allows you to run backups at certain time intervals; however, the simplest options are Continuous and Daily backups.
First stop the backup if it's running by clicking Stop. Select the Schedule tab (Arrow #1) and select Daily from the Schedule options (Arrow #2). Then select the day and time for the first start (subsequent days will start at the same time you select) and enter the number of days to pause between the backups (Recur every 1 day, see Arrow #3). The settings below will start our example backup task at 4:33PM every day beginning on October 30th 2010:
Once you are done, click Activate Scheduler to start BackupChain's background process. It will start your backups when it's 4:33PM automatically.
Question: Will the backup start automatically tomorrow?
Answer: Yes, and the option "Run Task ASAP if missed" ensures that if your computer is turned off at 4:33PM, the backup will run immediately when you turn your computer on.
Question: Can I use the same process to do a virtual machine or database backup?
Yes, simply select your VM or database files. Also check our Hyper-V page to read about our fully automatic, Single click Hyper-V Backup feature.
Question: What does Continuous do?
Answer: It repeats the backup every three minutes.