Download BackupChain v4.0.5441
Full version with all features enabled (20-day trial, Designed for Windows Server 2022 – 2008 & Windows 11 – 7, Hyper-V Server, Azure Stack HCI platforms)
What People Say About BackupChain…

Jan 17, 2023:
"BackupChain is one of those rare gems you must look a little to find, but once you do you won't know how you existed without to protect your data. Unlike so many other vendors, here you are not the alpha/beta tester, but instead you get rock solid code that just works. In the world of greedy subscription licenses, it's almost nostalgic to pay for perpetual. Combine this with a skilled, knowledgeable, responsive and courteous support team giving you advice and help that is just uncommon nowadays. Again, a gem, and you've found it, so stop looking elsewhere.
Welcome home, Administrator."
Balazs Czviin, Director of IT & Cyber Security, IPA Global, USA

"BackupChain gives us security and peace of mind for our customers. It is a product that offers very high performance and high recovery reliability when there has been a disaster.

We have had to recover data from our clients after serious disasters, the recovery has been easy, fast and with very satisfactory results."

Josep Tomàs, IT Manager – Binsoft Informatica.

"I'd looked at other backup products as a solution to our growing virtual server backup needs. These products were simply outside of our budget. Then I found BackupChain which gave me a complete backup solution at a reasonable price. I downloaded the free trial and it did everything as advertised. Not only was it a solid product, they have been so generous and prompt with technical support that I feel guilty I'm not paying them more. I'm sold on these guys. I never imagined the day I would sleep easy over backups.

Watt Key, Jr., Director of IT,
Jackson, Key Practice Solutions, L.L.C.
Watt also wrote the book and script for the Hollywood movie "Alabama Moon". Check out his Wikipedia page

The above download is a fully functional, 20-day trial that you can activate with a license key.
PC Platforms
Server Platforms
Windows 11, 10, 8.1, 8, 7, Vista, XP
Windows Server 2022, 2019, 2016, 2012, 2008, 2003. BackupChain offers a full GUI on Windows Core Installations, and
Hyper-V Server 2019, 2016, 2012, 2008
Microsoft Small Business Server, Storage Server, and all other OS variants are all supported.
Azure Stack HCI
Note: BackupChain is also fully functional inside virtual machines. The article Host vs. Agent backup discusses the pros and cons of running backups on the host and on guest VMs. If you have installed an older BackupChain version based on a MSI package, please uninstall and update manually. Your settings and licenses remain intact when uninstalling.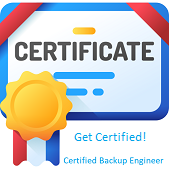 Did you know, we also offer a Backup Engineering Certification course? Our product-neutral certification opens new career opportunities and demonstrates your in-depth expertise to potential customers.
Cluster Shared Volume virtual machine backup support is available in BackupChain Server and BackupChain Server Enterprise Edition, see Buy page.
.NET Installation Instructions (Installation of .Net framework is no longer required in almost all cases)
BackupChain Update Instructions
Other Freeware Downloads
Map FTP as a Drive Letter using DriveMaker (Freeware)
DeleteLongPath™ Deletes Long Folders when Windows Can't Remove Them (freeware)
VssDiag™ Our Volume Shadow Copy Service diagnostic tool (freeware)
FolderStats™ Disk Usage Analyzer (freeware)
File Date Repair Tool v2 (freeware)
RAMKick™: Like RAMMap but Automatic, Empty System Working Set Memory (Freeware)
Free Guides
What are Typical Uses for BackupChain?
Backup of Servers and PCs
Virtual machine backup on Hyper-V, VMware Workstation, Vmware, VirtualBox, and Virtual PC.
SQL backup
Microsoft Exchange backup
File backup
Entire cloud centers are backed up using BackupChain, such as RemoteAppHosting:
"We are an cloud hosting company www.remoteapphosting.net and we use BackupChain on all our hosts, we had few disasters with by restoration of the VM the problem was solved, that makes me sleep easer at night, so it has worked for us"
Fred Alavi, Microsoft Partner, Owner of Cloud Hosting Company www.remoteapphosting.net