Welcome to BackupChain Backup Software
Backup Software Designed for I.T. Professionals. Carefully Crafted in the USA.
BackupChain is a powerful backup tool made specifically for IT professionals: BackupChain offers fine-tuning features like no other backup program, runs solid for years without reboots, requires no babysitting, and includes many backup features for fine-tuning your backups. In just minutes you can turn BackupChain into a sophisticated file copy tool or into a complex archiving system, using various modules: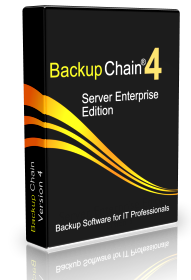 How do you want to use BackupChain?
File Version Backup
Disk Imaging
Disk Cloning
Hyper-V Backup
VMware Backup
FTP Backups
Microsoft Exchange Server Backups
Data Backups
Cloud Backups
SQL Server Backups
P2V, V2V, and V2P conversion
Local and Remote Backup and Replication for Windows Servers and PCs
Benefit from a unified data backup tool: high-speed deduplication, compression, and encryption are available for local disks, network, FTP and cloud backups. You can back up your file server data to another site and vice versa.
New Innovative Granular Backup and Granular Restore Features
BackupChain Server Enterprise Edition is equipped with two great time savers:
Granular Backup allows you to make copies of files and folders stored inside virtual machines from the host and without installing agents in the guest OS.. This feature works for VHDX, VHD, VDI, and VMDK disks (Hyper-V, VirtualBox, VMware Workstation and Server). See this example.
Granular Restore allows you to restore files and folders from virtual machine backups without restoring the entire virtual disk. This works for compressed, deduplicated media as well as copies taken without processing (plain data, original format). BackupChain's Granular Restore supports Hyper-V, VirtualBox, and VMware Workstation and Server. See screenshots here and also check our granular recovery tutorial.
Fully Configurable Data Backup for Windows Servers and Workstations
Professional Windows application with a simple interface.

BackupChain Hyper-V is a backup component for Hyper-V and fully compatible with Windows Server 2019, 2016, Windows 10 and 8, as well as older Windows Server 2012 / R2 – 2008, Cluster Shared Volume deployments, Failover Clustering, and Windows Server Core Installations.
Installation Instructions are available for GUI-less environments.
VMware: Back up VMware VMs locally and remotely, live without interruptions
Single-click backup and recovery, even via FTP. Check out this how-to guide for details.
Configurable and customizable retention periods
Restore file and folder structure as of time of when the data was copied
Delayed deletion, configurable depending on file type, allows you to delay the cleanup in the target folder after it occurred in the source folder.
Powerful Server-Grade File and System Backup Features
Disk backup, disk cloning, and P2V, V2P, V2V conversions
BackupChain detects what has changed inside a file and only stores the difference (Delta Compression).
Because only content differences are stored, you can back up virtual disks, databases, and large file servers quickly. This allows you to back up data efficiently to a remote location over the Internet and hold on to even hundreds of file versions.
Backup databases live without stopping or interrupting the database server (SQL Server, and other VSS-aware databases).
Efficient handling of large files (ZIP, delta compression, etc.) larger than 4 GB
Support for ultra-long (32767 characters) path names, even with ZIP compression
Support for international characters in path names (Unicode names)
BackupChain supports also eSATA and USB external hard drives and other storage media.
Cluster Shared Volumes (CSVs) and Failover Clustering are fully supported
Purchase includes a 1 or 2 year update subscription.
Lifetime technical support
Simultaneous file processing within tasks, as well as multiple simultaneous tasks are configurable. Run as many tasks as needed.
Full CPU core support during deduplication
Secure Online Copy Tool for Servers and Workstations — You Own Both Sides
Set up and control your own online system using the built-in FTP server. Running your own server at another site eliminates online storage costs and your data is stored on your own computers.
Send your data to any other PC running BackupChain or any FTP hosting site on the Internet.
Copy your office data to your home computer and vice-versa.
Synchronize your servers and PCs at several office locations.
Secure your files with secure transmission (FTPS) and military-strength encryption
(FIPS, HIPAA compliant).
Configurable File Backup Versioning
Configure precisely the number of versions you want to keep depending on the file type and location.
Compress specific file types the way you want (delta compression, zip, rar, gz, etc.)
Specify different settings for each folder and file type
Specify specific rules to omit certain paths
Backup Locked / Open Files & Copy Large Files Efficiently
BackupChain processes locked files of any application.
Backs up databases while the database server is running (Microsoft SQL, etc.)
Copy VMs live on all major virtualization platforms.
Applications and system files can be processed while applications are running.
BackupChain can be used as an efficient file copy tool for large files and very long path names
Simple Drive / Target Rotation Scheme
Rotate external hard drives as you like.
Backups continue where they left off for each respective target separately. Deduplication continues separately on each drive.
Rotate any type of target you want in any sequence (hard drives, folders, network shares, FTP, etc.)
All information is stored in the target folder. Any one drive in rotation scheme restores all your data independently.
Qualified and Responsive Technical Support

We take pride in our products and are personally committed to providing the best service possible. Should you run into any issues while using our software, please contact our technical support team. Tech Support hours are: M-F 9 AM-5 PM (ET).
Schedule Optimized Backups of Your Data to External Hard Drives, Network Drives, and FTP
BackupChain performs fast incremental deltas to external hard drives, network file servers, and FTP. The built-in FTP server permits receiving data from another computer; hence, you have both building blocks and backup tools required to set up your own DIY cloud.
To meet the needs of IT professionals, BackupChain contains specialized proprietary technology to very deep folder structures and so-called "in-file deltas". Delta compression is ideal for large disks, such as database and virtual disks, because only file changes are stored rather than the entire file. BackupChain is the only backup software available that provides delta compression even over standard FTP, which significantly reduces bandwidth and storage requirements.
Download a full function 20 day trial of BackupChain from our download page and protect your system within minutes!