How to Backup to a NAS and Other Network Servers
BackupChain® is more than just A network backup Solution
BackupChain was developed to meet the backup needs of advanced users and IT professionals. It has been optimized to work with all types of network attached storage devices (NAS) and handle virtual machines, databases, simultaneous high-volume backups, and millions of files. It backs up your system and supports live backups of Microsoft Hyper-V, Microsoft SQL Server, VMware, Microsoft Virtual Server 2005 R2, and other services.
Which backup module do you want to know more about?
NAS Server Backup Target Support
Backing up to a NAS is simple. Enter the IP address or network name of your NAS when specifying the backup target: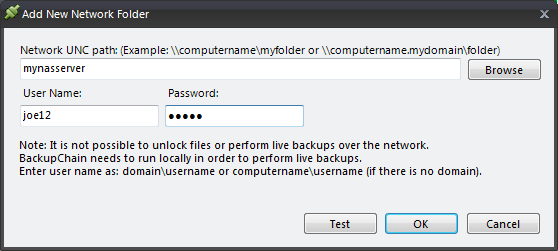 When backing up from a domain to a workgroup computer, which isn't part of the domain, you need to prefix the user name with the computer name. Example:
User name: JoesComputer\joe
If the network target is on a domain, prefix the user name with the domain, example:
User name: SunnyInc\Barbara
Extensible Workstation and Server Backup
Differential and Incremental File Backups using Delta Compression Technology
It is a common misconception to interpret incremental backups as simple file change updates. In the case of virtual host backups, the files are so huge that it is not feasible to retain a full copy of each version at each backup cycle. BackupChain provides a solution to this dilemma with its proprietary in-file delta compression technology, which ensures that backups use only minimal amounts of storage space. This compression algorithm reduces the load on the backup server but it also reduces bandwidth because only the actual byte-level changes within the virtual machine are stored. This is the reason why BackupChain is perfectly suited for remote virtual machine backups, even via FTP. BackupChain's backup technology does not require a locally stored history of files from previous backup cycles, so your VMware servers can run on minimal hardware. And, since most VMs change only minimally every day, you can easily send your incremental or differential backup over the Internet straight from your file server.
Product Support for Lifetime

All of our associates are personally committed to providing the best service possible. Should any difficulties occur or you need assistance with BackupChain, please email or talk directly with our developers. We are based in Baltimore, MD, USA: Tel: 1-844-717-5612 Email: support@backupchain.com M-F 9AM-5PM (EDT)
Data Backup to External Hard Drives, Network Drives, and FTP
BackupChain performs fast incremental backups to external hard drives, network drives, and FTP. The built-in FTP backup server permits receiving files from another computer.
To meet the needs of IT professionals, BackupChain contains specialized proprietary technology to handle millions of files and so-called "in-file deltas". Delta compression is ideal for very large files, such as database and virtual machine files, because only file changes are stored rather than the entire file. BackupChain is the only disaster recovery solution available that provides delta compression, which significantly reduces bandwidth and storage requirements.
Secure Online Backup for Servers and Workstations -- You Own Both Sides
Set up and control your own online system using the built-in FTP server. Running your own server at another site eliminates online storage costs and your data is stored on your own computers.

Send your files to any other PC running BackupChain or any FTP hosting site on the Internet.

Copy your office files to your home computer and vice-versa.

Synchronize your servers and PCs at several office locations.

Secure your data with secure transmission (FTPS) and military-strength encryption (FIPS, HIPAA compliant).
Configurable File Version Backup
Configure the exact number of versions you want to keep in your backup depending on the file type and file location.

Compress specific types of files the way you want (in-file delta, zip, rar, gz, etc.)

Specify different settings for different folders and file type

Specify specific file types to remove from your backup
Windows System Backup and Open File Handling
BackupChain backs up locked files of any type.

You can back up databases while the database server is running (Microsoft SQL, etc.)

Back up online VMs

on Microsoft Hyper-V Server, Virtual Server, VMware, and other virtualization platforms.

Applications and system files can be processed while applications are running.