BackupChain®: Backup Software and Toolset Made for IT Professionals
BackupChain is an affordable, reliable, and customizable PC and Windows Server backup software for Windows Server 2022 - 2008, Windows 11 - 7, and Azure Stack HCI, made specifically for IT professionals. You can fine-tune backups and use open standard backup file formats to back up your physical and virtual servers exactly the way you want, at a much lower price than other backup solutions. Our reliable backup software is perpetually licensed (lifetime license) and the entire BackupChain team is based 100% in the USA. We take great pride in providing you with personal and responsive tech support whenever you need it.
As a fully automatic and configurable backup solution, BackupChain offers
Hyper-V backup
,
file backup
,
disk backup
,
version backup
, deduplication, and delta compression. BackupChain Backup Software also includes database,
live virtual machine backup
, and a strong multi-threaded engine for parallel processing. Files, databases, and virtual machines can be easily copied to network servers, USB, SAN, iSCSI, local drives, and FTP. Simple access to your data: BackupChain can be configured to use open standard backup formats (ZIP, 7Z, virtual disks, etc.) or the file's native format, regardless of whether you back up a file server, a VMware, or Hyper-V server. Backup tasks can be configured to allow you to access files directly from the backup folder, and much more. Our notable customers include: Boeing, Siemens, Kyoto University, The State of Maryland, Lockheed Martin, Canadian Federal Government, Mitsubishi, Supreme Court of Albania, BNP Paribas, Wyoming Community Bank, Oman Arab Bank, Scobag (Swiss Bank), HP (Hewlett-Packard) and the United States Bankruptcy Court.
See more
.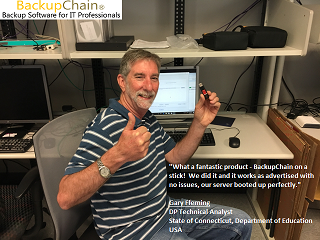 The Department of Education has over 85 servers with BackupChain Server Enterprise installed. After upgrading to v3, Gary tried our Hyper-V backup software, new
disk imaging
and
bare-metal recovery
features. He created a portable, bootable USB stick with Windows Server 2016 and BackupChain on it:
"What a fantastic product - BackupChain on a stick! We did it and it works as advertised with no issues, our server booted up perfectly!"
Gary Fleming, DP Technical Analyst, State of CT, Department of Education, 85+ Enterprise Servers with BackupChain installed
An Affordable, Lightweight, All-in-One Backup Solution, 100% Made in USA
A complete, yet lightweight, all-in-one backup software package, offered as a "buy-once-and-use-forever" license.
U.S. based, qualified, responsive, and reliable technical support is always available when needed
Own your backup software: Software licenses are perpetual "forever" licenses, not yearly subscriptions
Centralized management console: manage all your backups from a single screen, no matter how many computers and servers you have
Open standard file formats and the most advanced version backup system in the market
Image backup, full system disk backup, hard drive cloning and disk copy features, including bare-metal recovery, requiring no reboots or interruptions
V2V, V2P converter, and P2V converter: Convert physical server to virtual machines and vice versa, as well as between virtual machine platforms (V2V). Convert physical servers to Hyper-V to VMware or VirtualBox in all combinations.
Hyper-V Backup (See Step-by-Step Example), VMware Backup, VirtualBox Backup: Extensive, Reliable Virtual Machine Backup Features
Granular Backup & Granular Restore Features
Configurable data backup processing, filtering, file versioning (version backup, and parallelization options
Deduplication and a built-in FTPS Server (FTP encrypted over TLS/SSL), also available in all editions
Cloud Backup and Remote Backup (See our cloud backup plans);
Set Up Private DIY Cloud Server Storage and Access via Mapped Drive, using BackupChain and DriveMaker. Benefit from our unique incremental FTP backup technology, as it only uploads file content changes.
Azure Stack HCI backup: Back up virtual machines and other services running on Azure Stack HCI
Check out our notable customer list and reviews.
IT administrators and consultants: Get credit for your backup and recovery skills with our unique Backup Engineering Certification.
Discover BackupChain Backup Software and Its Components
Centralized Management Console: Manage all your hosts from a single screen
Backup verification and validation for file backups as well as sector-level disk imaging and disk cloning
Bit rot protection detects RAM, corruption, and equipment failures
Secure FTP Server: back up securely to another office with data secured while being transferred and when stored with AES military-strength encryption
Unmatched Technical Support Serving over 80 countries
We are committed to providing the best customer experience possible. Call, email, or chat with us whenever you have questions or need assistance. We are based in Baltimore, MD, USA:
Contact us
M-F 9 AM - 5 PM ET (NYC timezone).
Local and Remote PC and Server Backups
BackupChain Backup Software is an all-in-one
backup tool
with fine-tuning features that professionals can use to adapt it to many different environments. It offers built-in data deduplication, file compression, and encryption and sends your backups to network shares, disks, FTP and cloud servers. You can send your important files to other company sites and back up data offsite between your offices.
Time and Money-Saving Granular Backup and Granular Restore Functions
Our Server Enterprise Edition includes two granular features:
Granular Restore:
This feature is crucial for restoring individual files and folders from virtual server archives within seconds. It saves you from restoring entire virtual disks and opens compressed and deduplicated media on-the-fly. Imagine the time savings (30 secs vs. hours) when restoring a small Word document from a 4 TB virtual machine image. This feature was implemented to work with Hyper-V,
VirtualBox
, and
VMware Workstation
and VMware Server. See this
Hyper-V step-by-step example
and
this granular recovery guide
.
Granular Backup:
This is unique to BackupChain Backup Software and offers direct access to virtual server disks from the host without interrupting the VM. There is no need to install agents inside the virtual machine either. This feature is supported on VirtualBox, Hyper-V, VMware Server and VMWare Workstation virtual machines.
See this guide with screenshots
.
BackupChain: All-in-one Protection for Windows Servers and PCs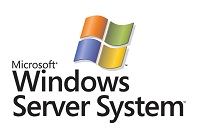 Hyper-V backup module for Hyper-V Servers to run fully automated, live backup tasks on Windows Server 2022 - 2008 / R2, Windows 11 - 8, including Windows Server Core and free Hyper-V Server editions.
Automated VMware backups Protect VMware and store virtual machine backups on disks or your cloud using deduplication
Automated VM backup and recovery, see this Hyper-V guide.
Set up file retention periods as needed. Delete copies when original source file has been deleted with a time delay.
Restore point-in-time file and folder structures as of time of backup
All settings can be fine-tuned based on file type, for example, BackupChain can process *.docx files differently than *.VMDK.
Professional server tool with an easy to use interface.
Powerful Server Backup Features
Change detection: BackupChain scans and tracks changed blocks inside files. The difference is compressed and stored as an increment or differential delta file
Block-based incremental deltas can be used to store hundreds of file changes. This is especially useful when backing up databases and VMs
Back up databases and virtual machines live. There is no need to stop or pause VMs. This applies to all VSS-aware services on your system.
Fast compression and handling of very large files (terabytes)
BackupChain preserves and backs up long file and path names (up to 32768 characters), with or without ZIP compression
Unicode and international letters in file names are supported
eSATA and USB external hard drives may be rotated as you like without configuration changes
Cluster Shared Volumes are supported on all Server Editions
Your license includes a one or two year software update subscription plan and unlimited tech support incidents.
Simultaneous file backups within each task are possible. Moreover, tasks can be scheduled to run simultaneously.
Deduplication can be configured to use several CPU cores simultaneously for better speed
Set up Your Own Secure Cloud for Free Cloud Backup
Connect your offices together and back up one site to the other; securely and without cloud fees.
Back up your files over the Internet to any other PC or server running BackupChain using deduplication (only file changes are transmitted)
Send your office data to your home office and vice-versa.
Synchronize server files at several office sites.
Protect data and transmissions using military-strength encryption (FIPS, HIPAA compliant).
File Retention and File Version Backup
For each type of file you can set up different retention plans
Compress each file type the way you want (ZIP, deduplication, plain copy, etc.)
Exclude files and folders using a wide range of filters
Process Locked / Open Files
BackupChain uses VSS to obtain application and crash-consistent backups of locked files
Database servers can be backed up while running (Microsoft SQL, etc.)
Virtual machines are backed up without a pause on Hyper-V, VMware, VirtualBox, and Virtual PC
Drive Rotation Made Easy
Rotate hard drives by simply swapping them whenever you want. No configuration needed.
All information is stored in the archive folder. Each rotated drive is independent. You only need one for a full restore
Drive rotation also works with FTP or network folders
BackupChain Creates Optimized Archives of Your Data
BackupChain Backup Software is the only tool that can send as well as receive fast incremental backups from other servers or PCs. BackupChain utilizes innovative proprietary technology that allows it to efficiently handle millions of files, deep folder structures, and track file changes on large files. Delta compression was developed to back up very large files, such as database and VM disks. Rather than copying entire disks each time, only file content changes need to be backed up. BackupChain also works great with USB hard drives, combining low cost storage and fast processing.
BackupChain: The All-in-One Backup Solution
Our mission is to provide you with the
best backup software
on the market, giving you full control over how your data is to be protected. Once you have tried BackupChain, you'll agree that no other tool provides the same set of professional features to fine-tune, manage, and process your data backups. We believe in empowering the IT professional with easy to use yet powerful features, as well as open data format standards so you remain in control and ownership of your data.
Hyper-V Backup with Granular Backup and Granular Restore Capabilities
A great set of features in BackupChain focuses on virtual machine protection. Granular Backups allow access to files and folders stored inside a virtual machine. Instead of protecting the entire VM, you simply pull individual objects to be backed up--it's all happening through the host without using agents inside the VM. See
this example for Hyper-V
. The Granular Restore process is also a huge time saver: instead of restoring huge virtual machines, you simply pull out a file from your archive when you need it. It takes less than a minute! These features are available on Hyper-V Server 2019 and also on Windows Server 2022 Core Installations and older versions, as well as for
VMware
and VirtualBox. Naturally all virtual machines are backed up live while they are running without interruptions, and on Hyper-V you can also back up cluster shared volumes the same way you back up local VMs.
High-Speed Deduplication, even over FTP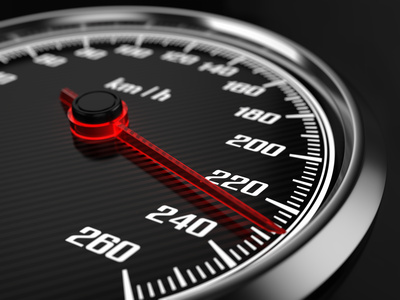 There is no need to back up the same huge database or virtual machine file over and over again. In-file deduplication works incrementally and differentially on a file-by-file basis. BackupChain Backup Software scans the file and detects which contents changed. Then it compresses and backs up only those changes since the last cycle. BackupChain is the only
server backup solution
on the market to achieve this over standard FTP, as well as to local and network targets. See our
Hyper-V backup solution
on how to back up Hyper-V virtual machines using BackupChain's deduplication.
Customizable File Processing
For each data protection task, you can fine-tune how each file type is to be processed, such as: File Versioning, Incremental and Differential Deduplication, Retention Periods, Compression Type, Encryption, etc. You can back up files simultaneously and also run tasks concurrently as necessary. In addition, file may be retained by revision count, i.e. you can set up BackupChain to keep the last N versions of a particular file type.
Configurable System Utilization
Whether you want full speed ahead using all available CPU cores and hard drive bandwidth, or a just a discreet background task, the entire spectrum is available. By limiting CPU cores and setting bandwidth limits you may reduce the system load of your backup or give it a boost at quiet hours.
Pro Tech Support is Available for Your 20 Day Trial Period
Our team is committed to providing you the best disaster recovery solution and provides free support during trial periods to get all your questions answered. If you need assistance, we are here to help!
BackupChain Cloud Backup Plans
While you can always set up your own private and secure cloud using BackupChain, we also offer competitive, high-speed
cloud backup plans
at discounted prices. Using BackupChain's plans you can send WAN optimized backups to our data center in Baltimore, MD, securely over the internet and protected with government approved AES encryption. Our servers are optimized to handle large backups and are hence ideal for
Exchange Server
and SQL databases and Hyper-V virtual machines because once the first backup completes, only changes are uploaded in a compressed archive. Using the cloud also allows you to restore your data from anywhere in the world. Because we do not throttle traffic to or from our servers, restore and backup periods are kept as short as possible. Beginning in May 2015 we expanded our cloud offering to include three different kinds of cloud plans: single server plans, shared server plans for up to three servers in the organization, and unlimited cloud backup. The new shared plans allow the same storage space to be used simultaneously by multiple servers and PCs in your business. Our cloud plans as well as our software are backed by a 110% money-back guarantee and there are no setup fees. Server plans are offered in terabyte increments, whereas shared plans start at 500GB. Discounts and plans up to 216 TB are available; please contact our sales department. Seeding and express recovery options are offered and may be necessary for customers with a slow internet connection. In order to seed your data, you create the first encrypted backup on an external hard drive and mail it to us. We then either hold on to it in case you need an express recovery in the future or mail it back to you. An express recovery option is available with 24 hour shipping within the U.S. so you can recover your data as quickly as possible if you have substantial portions of your data to restore within a narrow time frame.
For our international customers
Our website is now available in several languages:
Dutch
,
German
,
Greek
,
French
,
Italian
, and
Spanish
.
...Get Started in Minutes!
Start your trial today; it's fully backed by tech support. Your purchases are backed by our 110% Money-Back and Best Value Guarantees, see
here
.
From a delighted customer we received: "I have ordered and received 2 licenses for your BackupChain software and installed them on our newly configured Hyper-V cluster and it's working flawlessly. Thank you for making such an excellent product!" J. Weitemeyer, Seeland International