FTP Backup Software with Deduplication and FTPS Server Built-In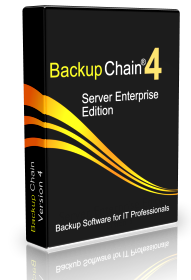 BackupChain is an all-in-one Windows PC and FTP backup software for Windows Server 2022 – 2008, made specifically for IT professionals.
BackupChain uploads only the file content changes from backup to backup–not the entire file–over standard FTP and also ships with its own integrated and easy to use secure FTPS server! BackupChain offers FTP file version backup, incremental and differential deduplication, implemented as delta compression and. By using FTP file deduplication, BackupChain can be used to do incremental Hyper-V backup, database backup, and virtual machine backup over plain standard FTP.
Network backup and file server backups can be sped up using parallel processing. Above all, you own your data: BackupChain uses open standard file formats where possible, such as ZIP and 7-zip or the file's native format.
BackupChain is also the only backup software that includes a built-in, secure FTPS Server for Windows that is fully Unicode capable and NTFS compatible by supporting file lengths over 32,000 characters.
Moreover, BackupChain includes:
Built-in FTP server and FTPS secure server. No limit on number of users. Full Unicode and support for extremely long file names (32,000+ characters), which many FTP servers cannot handle.
Extremely fast incremental file server backups: Integrated, server-side file scanning feature eliminates all client folder list requests
Includes Security Features, separate IP address filter on a per-user basis, and Auto IP ban
Full system disk backup and disk cloning features
Physical to virtual, virtual to physical, and virtual to virtual conversions in all combinations: Convert virtual machine disks to physical disks and vice versa.
Convert virtual machines from VMware to VirtualBox to Hyper-V in all possible combinations.
Comprehensive Virtual Machine Backup Features for Hyper-V Backup, VMware backup and VirtualBox Backup
Unique Granular Backup Features: Install BackupChain on the host and back up files from inside virtual machines, even over FTP.
FTP version backup and simultaneous backups
True deduplication and incremental backups over FTP. Only file changes are uploaded.
Use BackupChain to build your own DIY cloud using BackupChain's FTP server and DriveMaker, which mounts the FTP/FTPS site as a drive letter
Open standard file formats for your backups: you own your data, not your backup system vendor
Check out our many customers' praise BackupChain
Everything You Need to Build Your Own Remote Backup System
As the only solution on the market to offer a built-in FTP server and FTPS server, BackupChain enables users to quickly set up their own secure FTP backup network; however, BackupChain also works with all standard FTP servers.
BackupChain compresses and sends files that have changed via FTP based on a scheduled task, a manual backup run, or continuously in the background. What makes BackupChain special is its ability to detect file content changes between versions. By sending only file changes via FTP,
you can even back up entire hard drives in minutes rather than hours.
Use Drivemaker, our freeware tool to map your FTP / FTPS site as a drive letter and access all your data securely from anywhere in the world.
BackupChain is the only backup tool on the market with FTP-based deduplication.
Incremental Backups of Large Virtual Machines and Databases via FTP
BackupChain contains specialized FTP backup technology that performs in-file delta compression via FTP. This technology is specifically useful if you want to back up files to an existing FTP hosting service because no software changes are required on the server side. Simply install BackupChain on the client, select an FTP backup target, enter the FTP user credentials and you are ready to go!
You can combine BackupChain's Hyper-V backup and VMware backup features to back up virtual machines via FTP.
Benefit from the Built-in FTP Server or an Internet Hosting Service
An online FTP hosting company will typically charge you per GB per month and also limit the traffic (or charge extra after a certain traffic limit). Using BackupChain's built-in FTP server you can set up and host your own FTP server to receive files from other BackupChain installations and save money.
FTP File Transfer and Fully Automatic FTP File Backups
BackupChain contains an FTP client that connects to FTP and FTPS servers and automatically backs up your files. BackupChain preserves the file date and time information and is also capable of performing large file in-file delta operations via FTP, also known as file version differencing (only file content changes are transmitted).
More suggestions on how to set up your own DIY cloud backup using BackupChain can be found here.