BackupChain Backup Software Features
Backup Software Designed for IT Professionals and MSPs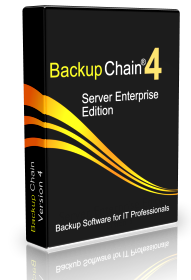 At FastNeuron we are always looking into ways to make your job easier. Since data backup and protection are the very top priorities for every IT admin, we make sure we deliver the best product and service we can.
The list below summarizes the key features of BackupChain; however, there is a lot more to this backup tool than can be expressed through feature lists. We hope you'll enjoy working with BackupChain–our team is on call 24/7 to help. Your purchase is covered by a 110% money-back guarantee.
Management Features
Centralized Management (Server Enterprise edition and up): manage all your servers from one screen
Backing up migrating VMs (Hyper-V, with or without cluster shared volumes)
Auto-select VMs for backup based on rules
High Reliability Backup Solution
Bit-rot Detection
Backup file verification
Disk image verification
Disk clone verification
Automatic and configurable file re-verification of backup files based on probability and file size settings
Deletes old backup file versions after successful backup (with configurable retention settings)
Deals reliably with sudden media loss (network failures, disk defects, broken links)
Automatic and highly configurable backup file versioning to preserve old versions of each file.
BackupChain runs reliably for years unattended. Tasks run in isolated environments
Closes unused network connections to backup folders in order to protect against ransomware attacks
Disk Backup Solution
Bare Metal Recovery
Disk to disk backup and disk cloning: copy disks and clone disks automatically and on a schedule while Windows is running. Hard drive clones can mounted side-by-side with original disk and booted from in case of a disk failure.
Disk image backup: Back up disks into an open standard virtual disk file format: VHD, VHDX, VMDK, and VDI
P2P (Physical to physical disk copy)
P2V (Physical to virtual machine conversion)
V2V (Virtual to virtual conversion) Between VHD + VHDX (Hyper-V), VDI (VirtualBox), and VMDK (VMware) in all combinations
V2P (Virtual machine to physical conversion). Convert a VM to a physical disk.
Platforms and Services
Live backup of VSS-aware services
Live and fully automatic Hyper-V backup and recovery (includes Cluster Shared Volumes)
Live Microsoft SQL Server backup
Live Microsoft Exchange Server backup
Virtual Machine Backup
Live virtual machine backup, no service interruption
Microsoft Hyper-V backup
VMware Workstation backup and VMware Server backup
VirtualBox backup
Virtual Server backup, Virtual PC backups
Unique Backup Tuning and Flexibility
Copy file server data and virtual machines in their native format
Back up using open standard formats (ZIP, 7-Zip, etc.): no vendor lock-in
Use deduplication selectively to save backup storage, recommended for VM and database backups
Version backup and automatic file versioning
Back up files inside VMs from the host: Granular Backup for Hyper-V, VMware (Server and Workstation), and VirtualBox Hosts.
Delayed deletion of files deleted at the source
Configurable file version backup based on file types
File backup settings are configurable by file type.
Run external utilities before and after backup tasks
Advanced Scheduler: Continuous schedules, daily, weekly, monthly, etc.
Comprehensive backup software for all Windows platforms
Windows PC backups (Windows 11, 10, 8 / 8.1, 7, Vista XP)
Windows Server backups (Windows Server 2022, 2019, 2016, 2012 R2, 2012, 2008 R2, 2008, 2003)
Azure Stack HCI
Hyper-V Server backup: Hyper-V Server 2019, 2016, 2012 R2, 2012, 2008 R2, 2008, as well as Windows 8, Windows 10, and Windows 11.
Windows Core installations of Windows Server 2022, 2019, 2016, 2012 R2, 2012, 2008 R2, and Windows Server 2008
Time savers
Automatic Windows Server backup
Granular Restore for Hyper-V, VMware (Server and Workstation), and VirtualBox Backups
Time Machine-Like Restore: Restore file and folder structure as of time of backup
Simultaneous backups within a backup task
Selective file restore of old file versions; search for old versions via date and time filter
Deduplication cuts down backup file sizes: faster cloud backups and network backups
Email Alerts (also with customizable HTML)
Use Granular Backup to back up files inside VMs on a separate schedule: allows for quicker and more frequent backups
Efficiency and Backup Storage-Saving Capabilities
High-speed deduplication (incremental and differential) that can be configured based on a file type
Configurable file retention periods depending on file type
Fast and economic incremental backup and differential backup
Scans VMs and DBs in place with over 450 MB/sec scanning speeds on modern servers.
In-file delta compression (deduplication) for smaller backups
Cloud Backup and Remote Backup
In-file delta compression creates smaller backups and minimizes bandwidth requirements.
Cloud backup storage plans are available for Hyper-V, VMware, and other services.
FTP / FTPS backups
Set up your own cloud server that you can access via a virtual drive and receive remote backups using the built-in, easy to use FTP Server
Use DriveMaker to map a drive to the FTP site or cloud storage
Rock-solid Backup Performance by Design
Stable, enterprise-class server product
Continuous server backup and protection
Capable of backing up millions of files
Reliable network backups
Military-strength encryption AES 256 (FIPS and HIPAA compliant)
Unattended mode: Runs as a Windows service
Backup concurrency: Start several backups at the same time
Full CPU utilization or limit to one CPU core is possible
Bandwidth and disk speed throttling
Unicode file name handling: all languages supported
Backup of long path names (up to 32768 characters long), even when creating ZIP files, FTP, cloud backups, or deduplicating.
Support for files larger than 4GB even with ZIP compression (64-bit file sizes are possible)
Efficient locked file handling, VSS compatible
Detailed logging and tracing
Targets
Local, physical disks
Network shares
Backup to USB, FireWire, eSATA external drives.
FTP and FTPS sites
iSCSI targets
Tape drives with drive letter access (contact support for details)
100% Made in USA
All work and ownership is U.S. based
Tech Support available 9am – 5pm, ET
Platinum Edition: 24 hours / 7 days a week / 365 days a year (Platinum Edition)
Summary
Comprehensive backup solution for local, network, and cloud backups on Windows.
Disk backup and disk copy features for hard drives and RAID arrays, requiring no downtime or interruptions of service
Supports all Windows versions
Backs up common virtualization platforms at no additional charge: Automatic Hyper-V backup, VMware, VirtualBox, etc.
Backs up server applications, such as Microsoft SQL Server and Microsoft Exchange Server
Reliable performance for years without interruption, superior stability. BC handles huge file server backup tasks with very limited resources.
Unique features to fine-tune backups
Deduplication based on in-file delta compression
Create smaller backups and faster uploads through more precise backup tuning
DIY self-hosted cloud server system: Set up your own cloud using BackupChain's FTPS Server (host your own cloud server) and DriveMaker Plus (maps cloud storage as a drive letter).
Or use the BackupChain Cloud
Simple backup drive rotation: Drives may be substituted freely as needed
Back up using exact file copy or open standard file formats: no vendor lock-in
Sophisticated Granular Backup and Granular Restore features (see when to use Granular backup)
U.S. based tech support is always available (email, chat, phone), incl. free installation guidance and trial support
110% money-back guarantee
Supported Operating Systems (32-bit / 64-bit):
Workstation Platforms:
Server Platforms
Microsoft Windows 11, Windows 10
Microsoft Windows Server 2022
Azure Stack HCI
Microsoft Windows Server 2019 and Hyper-V Server 2019
Microsoft Windows Server 2016 and Hyper-V Server 2016
Windows Server 2012 R2, Server 2012, and Core Installs
Hyper-V Server 2012 + R2
Windows 8.1 / 8
Microsoft Windows Server 2008
Windows 7
Microsoft Windows Server 2008 R2
Vista
Windows Server 2012 R2 Server Core Installation
XP
Hyper-V Server 2012 R2 / 2008
Windows Server 2003