How to Exclude Files by File Extention from Backups
To exclude files of a certain type from backups, use the File Versioning/Cleanup tab, and if the extension is not already there, click the Add button and enter the extension in the following format. For example: you would enter
*.pst 
to set up a rule for PST files. Then set 'number of backups to keep' to 'no backup':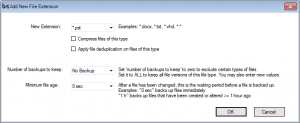 The new extension will then appear in the table:

After that you may add more file type rules above as needed. If you needed to process a certain type of file differently, for example, back up a different number of versions for it, or turn off compression for those types of files, the same procedure would apply.