Backup Software for Windows Server 2022, VMware, & Hyper-V
BackupChain®: Backup Software and Toolset Made for IT Professionals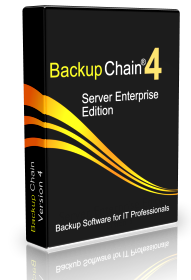 BackupChain is a backup software that is Made in the USA and is optimized for Windows Server 2022 – 2008, Windows 11 – XP, and Hyper-V Server 2019 – 2008, and over the last 13 years, it has become the IT professional's choice in more than 80 countries worldwide.
Download the full version now, and take it for a test drive because overall, BackupChain provides the best value.
BackupChain Includes Free Hyper-V Backup and CSV Support
Hyper-V Backup with Great Performance
BackupChain includes Hyper-V backup software functionality that only requires you select the VMs from a list. BackupChain Server Enterprise Edition also comes with Granular Restore, Granular Backup and supports VMs hosted on cluster shared volumes (CSV). Restoring Hyper-V VMs is just as easy as backing them up. Select from a list and BackupChain places a new cloned VM or the original back into Hyper-V Manager.  In addition, backup files may be processed in their native format, compressed, encrypted, and/or deduplicated as incremental and differential deltas; the choice is yours!
Disk Image Backup and Disk Cloning for Your Physical Servers and Hosts
With BackupChain's Disk image backup you can protect your Hyper-V host disk and Windows Server operating system disks by backing them up as disk image files. Moreover, disk cloning can be done as well, live without reboots and interruptions, and on a schedule. Clone your system disk in the background and have it ready to boot in case disaster strikes. Unlike a RAID backup scenario where you use RAID 1 or RAID 10, the disk clone is not immediately affected by data corruption, accidental deletions, and ransomware attacks. You could even have several disk clones in the same server, rotate one a day, so you can go back in time instantaneously without a time intensive restore operation.
Comprehensive P2V, V2P, and V2V Features for Hyper-V, VMware, and VirtualBox
As a comprehensive server backup software, BackupChain also includes easy to use P2V, V2P, and V2V converters. Convert physical to virtual, virtual to physical, and virtual to virtual, such as Hyper-V to VMware or VirtualBox in all combinations.
File Backup for File Servers and Network Servers
Parallel and robust NAS backups with file versioning
Copying and backing up file and network servers requires dedicated backup software that can handle very deep, long file paths, and very large files. In many cases you may wish to use parallel execution to speed up backups and it's also generally recommended to use compression and encryption for best backup performance and security.
Another unique feature of BackupChain is its ability to version files so you can keep N revisions of each file, depending on file type extension. You could, for example, keep the last 50 revisions of each Microsoft Word document but only five revisions of your Access or SQL Server databases.
Virtual Machine Backups Without Agents
Back up all VMs with just one license per physical host
The best backup software isn't necessarily the most expensive one. Instead of buying Veeam or Acronis, use BackupChain's unique granular backup module and access services and files inside virtual machines from the host. All these virtual machine backup features are available at no additional charge and no additional licenses are required.
Volume Shadow Copy Service (VSS) Backup
Application and crash-consistency
BackupChain wouldn't be the best backups software if it didn't provide consistent and reliable performance. BackupChain is compatible with VSS and creates application consistent backups of your SQL Server, Hyper-V virtual machines, and Exchange Server databases. Crash consistency is also available for other kinds of services, such as older Linux VMs.
Cluster Shared Volume and Failover Support
BackupChain backs up an unlimited number of virtual machines at no extra cost, even those stored on CSVs.
Multithreaded Deduplication, Use Less Disk Space
Minimize bandwidth and storage volumes
Bandwidth and storage usage and can be minimized greatly by using BackupChain's deduplication options. Whether you are backing up to the cloud or to a network server, you can also throttle read and write operations so they don't interfere with other services. High compression rates can be achieved at a higher speed by parallelizing deduplication over multiple CPU cores.
Simple Licensing: One License per Installation
One  license per host usually covers all usage scenarios. The number of files or virtual machines are not limited.
Retention Flexibility and No Proprietary Formats
Efficient storage managment
BackupChain offers unique file retention and processing functions that use open standards (except deduplication, where there is no open standard). Using these functions you are in control of your data and do not depend on BackupChain to do a restore.
Instant Access to VMs and Files From the Backup Folder
You can freely access BackupChain's backup folders. When you create replication tasks via the no-processing option, virtual machine files and data files are immediately accessible without BackupChain. You can instantly boot these VMs without further restore operations.
File-Level Access of Files and Folders in VMs and Backups
Granular Backup & Granular Restore
Granular Restore refers to the capability of BackupChain to access individual files that are stored inside VM backups. BackupChain can open deduplicated and compressed chains or increments without restoring the entire VM and allow users to browse and open files selectively. The delay in accessing VM internal folder structures is usually less than 60 seconds.
Granular restore currently works with VHD, VMDK, VHDX, and VDI virtual disks.
See: //backupchain.com/i/how-to-use-granular-restore-to-extract-individual-files-from-virtual-machine-backups
The same feature to access files in VMs during the backup phase is: Granular Backup
Granular Backup allows you to back up files inside a VHDX / VMDK / VDI from the host, without installing an agent inside the VM. The great thing about Granular Backup is you don't need to back
Features in a Nutshell
Disk image backup
Disk to disk backup (automatic)
Disk to VHD, VHDX, VDI, VMDK
P2P, P2V, V2P, and V2V conversions
Windows Server 2022, 2019, 2016, 2012 R2, 2008 Backup
Windows 11 Backup (Supports XP to Windows 10, Windows Server 2003 to 2022)
Hyper-V Backup
VMware Backup
VirtualBox Backup
SQL Server Backup
Data deduplication
Customized Scheduling
Email notices and alerts
Throttling
Configurable retention policies, unique features
Encrypted backups
Incremental and differential backup
Dynamic volume support
File backup exclusion
Hot backup
Multiple file revision support (versioning), which can be fine-tuned using unique features
VSS support
Compressed backup
Virtual machine backup
Continuous scheduling
Individual file recovery, also from within virtual disk images
Restore point management
Supported drives
Internal drives
USB, e-SATA, firewire external hard drives
Storage area network SAN
ISCSI
Network Attached Storage NAS
FTP and FTPS servers
Cloud storage
Virtual machine targets
Tech Support Options
Telephone support (U.S.)
Email
Live chat
Knowledge base
Installation Support
Remote Tech Support & Assistance
Restore Support
Emergency Support
Operating Systems
Microsoft Windows Server 2003
Microsoft Windows Server 2008 + Hyper-V Server edition
Microsoft Windows Server 2008 R2 + Hyper-V Server edition
Microsoft Windows Server 2012 + Hyper-V Server edition
Microsoft Windows Server 2012 R2 + Hyper-V Server edition
Microsoft Windows Server 2016 + Hyper-V Server edition
Microsoft Windows Server 2019 + Hyper-V Server edition
Microsoft Windows Server 2022
Windows XP, Vista, Windows 7, Windows 8, Windows 10, Windows 11.
More Information
Best Backup Software for Windows Server & Hyper-V