How to Seed to a USB Drive for Cloud Backup
This article describes how to seed your first backup to an external hard drive. This particular example assumes you will be using the FTP protocol for your cloud backups.
In order to create a seed drive (or folder) in BackupChain, you need to create a backup that is targeting an FTP site first and store all files locally.
FTP Server Configuration

First, select FTP Server from the main menu:
This opens BackupChain's FTP Server Settings as shown below.
Now click "Add User" and enter a user name. Note the password needs to be at least eight characters long.
Assign the external drive letter as the user's data folder. Our example below uses the D:\ drive:
After clicking OK, you will see the user listed in the user table. Now enter the port numbers and options shown below.
Our example uses the ports 7788 and 7789 for FTP transfers; however, you could use different port numbers as necessary if other services occupy these ports: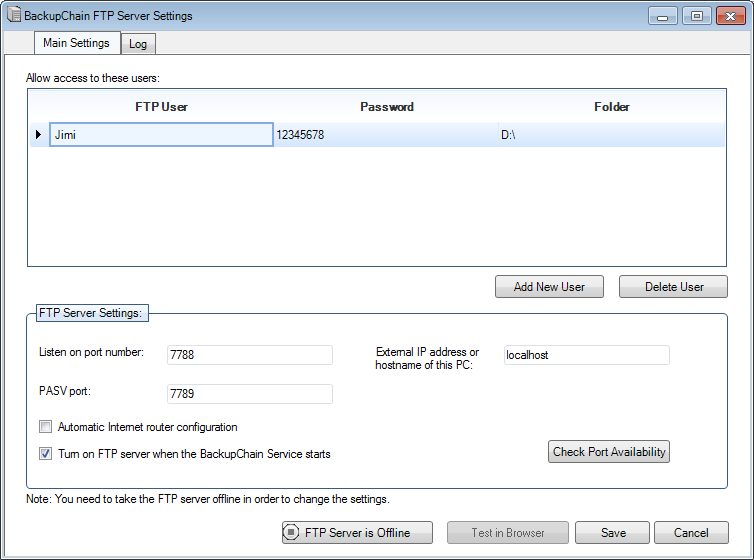 The FTP Server configuration is now finished. Click the button "FTP Server is Offline" to switch back to online mode. Once the section grays out, the FTP server is online and ready to use as indicated below: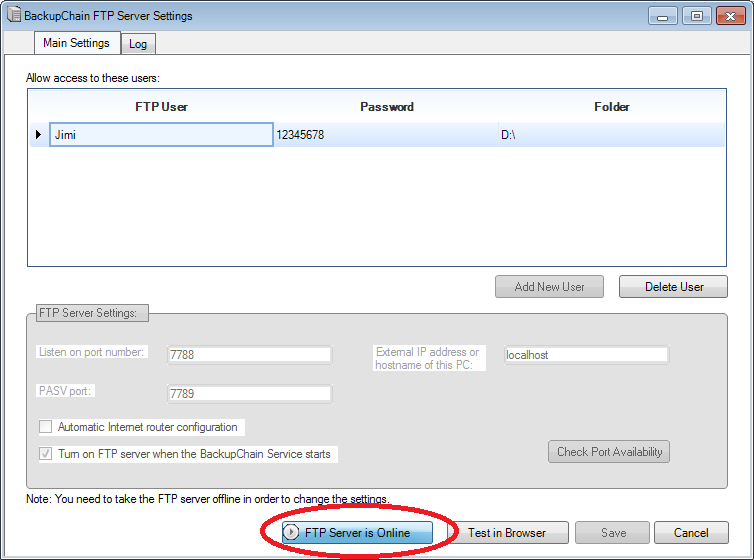 Cloud Backup Seeding

The actual seeding process won't start until you create a backup task of any type (see this example Windows 8 Hyper-V Backup, Step-by-Step),
then go to the tab Backup Target and select FTP Site, and click Browse:
In the FTP Server Connection Details screen above, enter localhost as the server name and the port number, user name, password, and other options as shown above.
A quick test will immediately confirm whether everything has been set up correctly.
The system is now ready to create its first backup to the seed drive (D:\ in our example above).
Once the backup finishes, all you need to do is take or ship the drive to the cloud backup server location. The files can then be moved 1:1 to the FTP user's data folder and are ready to use once the entire drive has been copied over.
Cloud Backup Options

Have you already checked out our cloud backup plans? Extend your disaster recovery strategy and back up to our cloud at very competitve rates!